About Us
We supply pet parents with various products, services and advice that assist you in caring for your pet well. Pet beds, pet cushions, pet toys, pet apparel, cat trees, pet leashes, pet collar, pet harness and other pet daily supplies are all available, no matter whether you are a new pet parent or experienced, it's easy for you to find everything that your pet loves at PAWZ Road with a quite reasonable price.
Catalogue:
Our Story
Our story begins with an old man and a dog. The old man lived alone after his daughter getting married. There was only a puppy accompanying him. The old man would pass across a wild forest everyday, reaching a small river and sitting down quietly to enjoy the moment of peace and the superb scenery, along with a puppy with no absence. Time flies, the old man was getting older.
One day, the old man and the dog walked though the path, then they sat beside the river. Everything around is beautiful and delectable as usual. However, the breath of the old man became weaker and weaker, until stop. Dog felt strange, anxiously put its claws on the elder and tapped the body, but no more response. Dog hovered around the old man with low mourning, then it ran back home rapidly for help. Because the road was wet and muddy after the rain, its claws and knees were almost cut by thorns. Fortunately, the dog found the elder's daughter. When they arrived at the banks of the river, the old man had already left peacefully. His daughter was highly grateful to the dog and decided to take it back to her residence.
Since the old man passed away, the dog would walk through the woods to riverside, sitting, waiting and looking at the river as if the old man had never left. Finally the dog was also died here. That twisted and desolate path had been already covered by the dog's paw print.
Afterwards, in order to commemorate the dog, the Old man's daughter created a pet care brand—PAWZ Road, producing the pet kneecaps, pet rain coats, pet apparel to protect our pets, and also providing the funny pet toys with an acceptable price for pet parents, wishing every pet in the world can lead a healthy, happy and comfortable life.
Until 2018, PAWZ Road has been dedicated to online marketing with high quality products, responsive customer service, affordable price, wining the trust and praises of many customers, such as USA, Japan, Russia, Australia, Europe, etc.
We aim to expand the business to all over the world, since we are full of unlimited ideas for new products for all pets: advanced ergonometric leashes, imaginative toys and so on. We encourage you to contact us with your suggestions, so we can continue to offer exciting new ways for your pet to stay healthy, delighted and active.
Why Choose Us
1. 500+ Fantastic Product Range
We stock over 1000 pet products online, with lots of new and exclusive products. From essential pet toys, pet apparel, pet leashes, collars and harness, to favourite pet beds, blankets, cat trees, to cutting-edge pet tech automatic feeders, we've got everything you and your animal companions could need. No matter whether you are a new pet owner or experienced one, it's easy for you to find everything that your pet loves at PAWZ Road with the best price.
2. Free Standard Delivery
You don't have time to squeeze in a trip to a pet store? Order online, and you'll receive free delivery to your home or work place on all orders with no limitation. Free standard shipping of all items at PAWZ Road.
3. Unbeatable Special Offer
You can get the most competitive price at PAWZ Road. Buy more save more!
Spend $100 get 10% off

 

(code pawzoad001)

Spend $300 get 15% off

 (code pawzoad002)
Please keep the passion for more discounts!
4. Friendly Professional Service
Whenever you are getting in touch with our customer service staff online, you can be sure of a helpful, friendly service from the experts at PAWZ Road. From online shopping guides to excellent customer service via phone, post or email, we're here for you - and for your pets!
Our Mission
We insist on strengthening the ties between pets and their families by providing innovative, trustworthy, affordable products, as well as the service support to take care of pets. We always strive for growth to win in the marketplace but not at the cost of our employees, customers, suppliers, communities, stakeholders, or planet.
Our Vision
We aim to become the leading pet care company by playing important roles to make every pet's life a happy and healthy one. Along with your accompany, PAWZ Road will become a greater company.
Team Effort
We has invited Japanese designer Hegu Yi(鹤谷), American designer Cesar Millan and cooperated with CM. So far, our design teams are in Germany, USA, Japan and China. Our main factories are located in Germany and China.

Factory & Warehouse
Our production area is 995,000 square meters, and employees are over 860 members. We always get the most competitive prices and high quality goods for customers, and large production capacity ensure prompt and on-time delivery.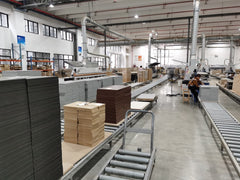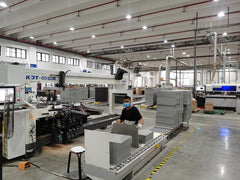 Welcome to PAWZ Road, we will always be here for you!